http://www.durhamregion.com/news-story/7224977-all-welcome-to-woman-priest-s-catholic-masses-in-pickering/
All welcome to woman priest's Catholic masses in Pickering
Rev. Roberta Fuller invites all in Durham to attend regular masses that will begin in June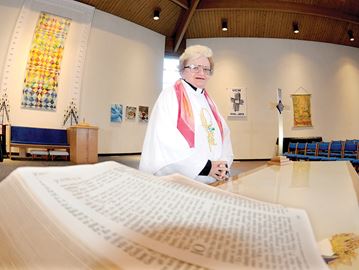 Rev. Roberta Fuller
Ron Pietroniro / Metroland
PICKERING — Rev. Roberta Fuller will begin holding Catholic mass at Dunbarton-Fairport United Church in the spring. She is part of a small group of women in Canada who have been ordained as Catholic women priests. March 30, 2017
DurhamRegion.com
PICKERING — Rev. Roberta Fuller stands at an altar at Dunbarton-Fairport United Church, the spot from which she will soon be performing Catholic mass on a regular basis.
The offer to hold services at the United Church in Pickering is one Fuller gladly took up, as the Roman Catholic Church does not recognize women as priests.
Fuller is one of 12 priests belonging to Roman Catholic Women Priests (RCWP) Canada, and feels she's been called into priesthood.
"I've always been a feminist," she says. "I believe women's rights are human rights. I wanted to reach out to people."
The women priests movement began in 2002 when a bishop in good standing with the Catholic Church, anonymous and only known as "Bishop X," began ordaining women in secret, first on the Danube River.
"These women were ordained by an active bishop which means they were officially ordained in apostolic succession," says Fuller.