The We Are Church Ireland group held a protest this morning on Dublin's Ha'apenny Bridge.
The group describes itself a voice for reform within the Catholic Church.
It is calling for abuse to be tackled, for LGBT members to be made welcome and for women priests.
Spokesperson Brendan Butler said it hopes Pope Francis could end injustices within the church.
Blue ribbons were tied on the bridge over the River Liffey in a symbol of solidarity with victims and survivors of clerical wrongdoing.
The distinctive pedestrian bridge was also awash with rainbow flags and purple umbrellas supporting the ordination of female priests.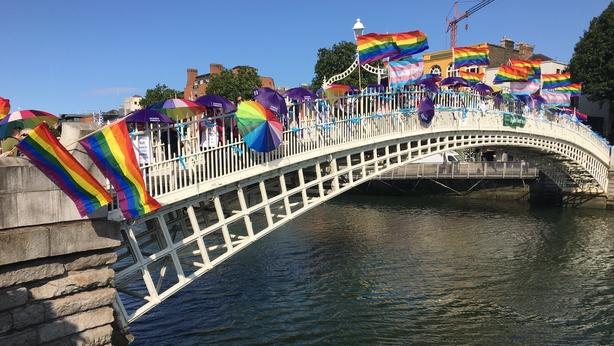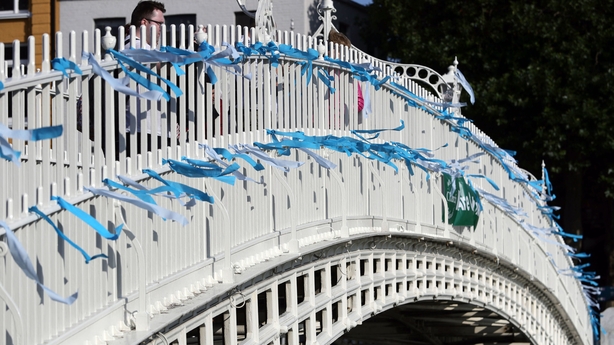 One veteran campaigner also said the Vatican's files should be opened to prove it is serious about tackling child abuse.
Soline Humbert, 62, from Versailles, near Paris, said: "Unless the truth comes out, and we know that as Christians, and we know that as Catholics, there is no movement forward, there is no resurrection, there is no transformation and trust cannot be re-established until the truth is acknowledged.
"It is very painful and it will be very disturbing but the truth is buried in the bottom, in the secret archives, of a lot of dioceses and especially in the Vatican."
The demonstration was styled as a welcome to the Pontiff rather than a protest.
Those taking part held placards with the message: "Justice for abused women" and decried "vile" language used about members of the LGBT community by some in the Catholic Church.
Tourists in this popular and busy part of the city centre gathered to watch.
Among those present were Maria Angalika Fromm, 67, from near Frankfurt in Germany, who said she had worked for 50 years for a changed church and urged Pope Francis to persist with his reforms.
She added: "He needs to break down the patriarchal structures and be open to women's ordination without celibacy and caring for all people including gay and lesbian.
"He has to go on and not be stopped by the old conservative men in the Vatican."
Eddie McGuinness, 49, an organiser of the annual Gay Pride festival in Dublin, said he wanted the church to welcome LGBTQ people.
"The Pope asked for forgiveness but let's show forgiveness and embrace the diversity of all families."
He added: "It is about love, so why not embrace the teachings of Christ?
"Men cannot do this on their own, they need women behind them and they need the LGBTQ community behind them as well and that is what we need to embrace."
Victims groups also gathered on Dame Street, which was along the route of the popemobile this afternoon.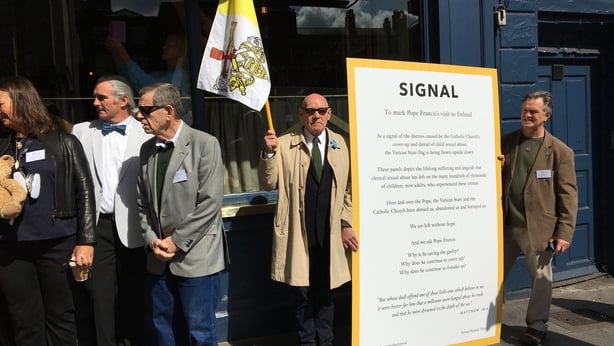 Pete Saunders of the victims group Ending Clergy Abuse said Pope Francis was aware that the abuse of children by clergy is continued in countries in Africa and South America.
The group is calling for a zero-tolerance approach and transparency for victims by opening up church records.
This evening, a public meeting at the Gresham Hotel in Dublin heard calls for an immediate and full separation of church and state.
The event, organised by People before Profit, heard from a range of speakers including Jane Donnelly of Atheist Ireland, broadcaster Vincent Browne and abuse survivor Darren McGavin.
Those present heard calls for the Vatican to open its files on clerical abuse to law enforcement and to prosecute anyone who illegally detained women at Magdalene Laundries.
The Government was also urged to end church influence over schools and hospitals.