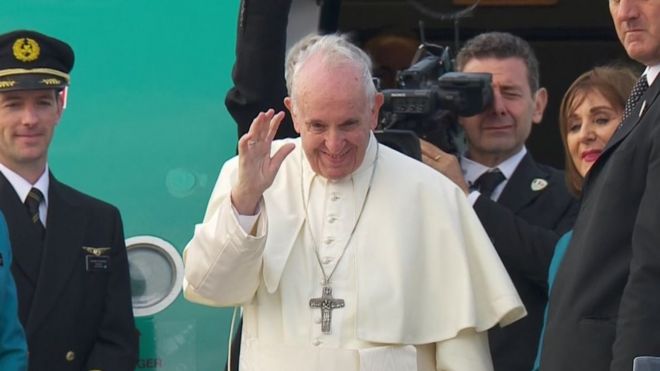 Pope Francis has begged forgiveness for members of the Catholic Church's hierarchy who "kept quiet" about clerical child sex abuse.
He was ending a two-day visit to the Republic of Ireland by celebrating a Mass at Dublin's Phoenix Park.
The Argentine Pope asked forgiveness for the "abuses in Ireland, abuses of power, conscience and sexual abuses" perpetrated by Church leaders.
It was the first papal visit to Ireland for 39 years.
The Pope waved goodbye to dignitaries, including Irish Prime Minister (Taoiseach) Leo Varadkar, before his plane left for Rome.
Earlier, he said no-one could fail to be moved by stories of those who "suffered abuse, were robbed of their innocence and left scarred by painful memories", and reiterated his wish to see justice served.
Pope Francis used the penitential rite of the Mass to list a litany of different types of abuse and mistreatment inflicted on Irish people by Church figures, and the cover-ups of sex crimes.
On each occasion he asked for forgiveness, the congregation applauded.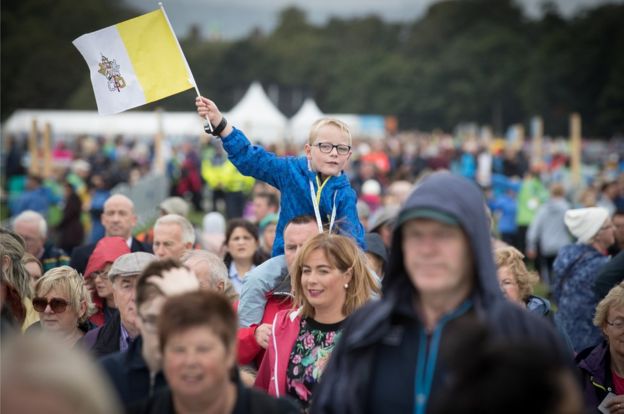 From love letter to a plea for forgiveness - By Leanna Byrne in Dublin
In 1979, the Pope told Ireland he loves her. In 2018, he asks her for forgiveness.
The theme of forgiveness has touched every one of his events: the quiet arrival, the sombre speeches and the modesty of it all.
This theme reached its pinnacle at the mass at the Phoenix Park.
Well received, Pope Francis has filled the once in a generation papal visit, his words of remorse welcome.
Read more: When the Pope asked Ireland for forgiveness
The Marian shrine is a place of Catholic pilgrimage in the west of Ireland, where an apparition of Mary, the mother of Jesus Christ, is said to have appeared in August 1879.
Each year, about 1.5 million pilgrims from across the world visit the shrine, which also hosted Pope John Paul II during his visit to Ireland in 1979.
'Repellent crimes'
The Irish Catholic Church has been rocked by revelations of paedophile priests, sexual abuse in Catholic-run orphanages, and the exploitation of women in mother-and-baby homes.
He later met eight survivors of sexual abuse, reportedly telling them he viewed clerical sex abuse as "filth".