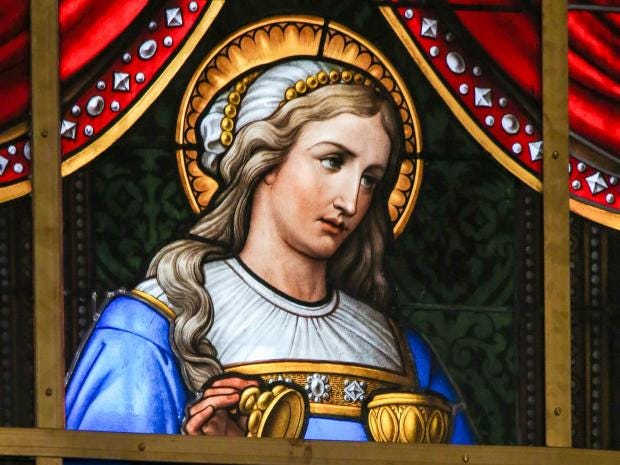 https://www.independent.co.uk/news/world/middle-east/mary-magdalene-feminism-metoo-jesus-disciples-apostle-christianity-judaism-pope-francis-vatican-a8281731.html
Pope Francis took the biggest step yet to rehabilitate her image by declaring a major feast day in her honour Shutterstock


If there's a feminist figure from the Bible for the #MeToo era, it could very well be Mary Magdalene.

The major character in the life of Jesus was long maligned in the West and portrayed as a reformed former prostitute. But scholars have adopted a different approach more recently, viewing her as a strong, independent woman who supported Jesus financially and spiritually.

The New Testament tells how Jesus cast demons out of her. She then accompanied Jesus in his ministry around the Galilee, before witnessing his crucifixion, burial and resurrection in Jerusalem, which is being commemorated by Christians this week and next. The Roman Catholic Church and Western Christian churches observe Easter on Sunday, Eastern Orthodox Christians a week later.

READ MORE

Including Jesus in the #MeToo movement is a step too far
Muslim boys who insulted Christianity sentenced to memorise Quran
Jesus actor confirms return for Passion of the Christ 2

Pope Francis took the biggest step yet to rehabilitate Mary Magdalene's image by declaring a major feast day in her honour on 22 June. His 2016 decree put the woman who first proclaimed Jesus' resurrection on par with the liturgical celebrations of the male apostles.
ADVERTISING





inRead invented by Teads

"By doing this, he established the absolute equality of Mary Magdalene to the apostles, something that has never been done before and is also a point of no return" for women in the church, said Lucetta Scarrafia, editor of the Vatican-published Women Church World monthly magazine.


I Tried The Pottery Barn Trick Everyone's Talking About — And It's Actually Pretty GeniusWikibuy




Unbelievably Adorable Pictures Of The Royal CoupleLivingly




How Vitamin D Affects Rheumatoid ArthritisHealthCentral.com




by Taboola
Sponsored Links


For centuries, Western Christianity depicted Mary Magdalene as a former prostitute, a narrative that began in the sixth century. Pope Gregory the Great conflated Mary Magdalene with an anonymous sinful woman mentioned in the chapter before she's introduced in the Gospel of Luke.

Only in 1969 did the Catholic Church roll back centuries of labelling Mary Magdalene as such, stating she was distinct from the sinful woman mentioned in the Gospel of Luke. Eastern Orthodox Christians never depicted her as a prostitute.

Mary Magdalene was from a thriving fishing village on the Sea of Galilee named Magdala, which has been excavated extensively by archaeologists in recent decades.

The site is home to the oldest known synagogue in the Galilee, where a stone bearing the likeness of the Jewish Temple in Jerusalem was found, as well as a marketplace, ritual baths and fishing harbour. Marcela Zapata-Meza, the lead archaeologist at the site, has called it "the Israeli Pompeii".

Modern scholars have adopted a different understanding of Mary Magdalene and regard her as one of Jesus' most prominent disciples, who stood by him to the end while his most devoted apostles did not.

"Historical tradition says she was a prostitute from Magdala," said Jennifer Ristine, director of the Magdalena Institute at Magdala. "Reanalysing that reputation that she had we can see she was probably a woman of greater social status, higher social status, a woman of wealth who accompanied Jesus as we see in Luke 8:2, helping Jesus and his disciples with her own resources."

Nonetheless, the image of Mary Magdalene as a licentious, sexualised woman has persisted in Western culture, including in Jesus Christ Superstar and The Da Vinci Code.

Cardinal Gianfranco Ravasi, the Vatican's culture minister, said Mary Magdalene's reputation was sullied by her depiction in art over the centuries.

"Art history made her become a prostitute, which is something that is not present in the Gospels," he said, adding that she also has been portrayed as Jesus' wife.

"It is important to find the real face of Mary Magdalene, who is a woman who represents the importance of the female aspect on the side of Christ," he told the Associated Press at the Vatican.