BFM TV 07/22/20
https://www.bfmtv.com/societe/sept-femmes-postulent-symboliquement-a-des-fonctions-dans-l-eglise-catholique_AN-202007220002.html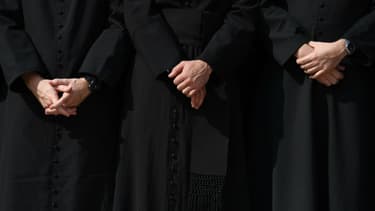 Whether it is the diaconate, the episcopate or the nunciature, these functions are all occupied by men.
The All Apostles collective!
tries to make the doctrine of the Church evolve.
"It will undoubtedly be a blast that will reform the Catholic Church."
This Wednesday,
seven women decided to apply for the positions
of deacon, bishop, nuncio, parish priest, lay preacher… Functions still reserved for men within the religious institution.
"The absence of women in positions of responsibility - whether in the governance of our parishes, our dioceses, the Vatican or as ordained ministers - constitutes a scandal.

This immense injustice is not a minor problem ", writes in a press release the collective All Apostles!

co-founded by five women, devout Catholics and committed feminists.
"It's time to give women parity"
Tradition has it that the Pope himself chooses the bishops, nuncios, priests, deacons, lay preachers from among the names proposed by the apostolic nuncio, the ambassador of the Holy See in Paris.
Names that have always been masculine to this day.
"The place of women is not what it should be in 2020. It is a scandal to allow the invisibility of women in the Church to continue," Anne Soupa told AFP in May, who created the Skirt Committee.
This Wednesday, the seven new candidates follow suit and try to break this glass ceiling.
Among them, Loan Rocher, a transgender woman who is applying for the position of deacon.
She now wishes to be ordained by the Catholic Church, because "women have charisms equal to those of men.
It is time to give parity to women in the governance of the Church, to give a voice to women ", she explains.
Women "silenced"
Sylvaine Landrivon, candidate for the episcopate, adds: "Faith, women live it like men."
If these women decided to take the plunge to change the positions of the Catholic institution, taking the leap was not easy.
"The silence of women by the Church for centuries still continues in a diffuse manner.
Many women we have met who do not dare to apply for fear of losing their teaching work in Catholic institutes or of being sidelined in their parish and diocesan activities ", explains All Apostles!
in its press release.
Faced with the wall that rises in front of the women of the Catholic Church, they nevertheless decided "to tackle these obstacles head on".